Children
CHILDREN'S CHRISTIAN FORMATION AND EDUCATION
We seek at Grace to build Christian community in which children are not merely accepted but listened to and treasured as a vital part of God's presence among us. Children of all dispositions—quiet and introspective, loud and joyful, and everything in between—are welcome here.
We hope children and their families will offer their presence, their open hearts, and their spiritual gifts to the church.
In doing so, they enrich our whole community.
WORSHIP WITH CHILDREN
Families' experience of worship with children are as diverse as children themselves. Some children like the ritual of the choral services; others like the informality of family-oriented worship. Some families are most comfortable sitting up front, where they can see and hear everything that happens; others like to be closer to the back, where they can move around more freely. We encourage you to find the way of worshipping that is the best fit for your family's needs.
Acolytes: Children age 8 and up are invited to be trained and then serve as acolytes. For more information, contact Nancy Lowry at nancylowry@earthlink.net.
A Note About the Eucharist: In the Episcopal Church, all baptized members are welcome to receive communion. Many children take bread as soon as they are old enough to open their hands for it. We offer no rite of "first communion" and require no special preparation. Some parents and children, however, choose to wait to receive the sacrament. Any child who does not want to take either the bread or the wine can cross his or her arms over the chest and receive a blessing instead. Clergy are available to talk with families who have questions about the sacrament.
Food Basket Offering: When the gifts are brought forward by the ushers at the time of the offertory, children carry the basket of food donations. All children who would like to help in this ritual are invited to do so; our food basket has many handles!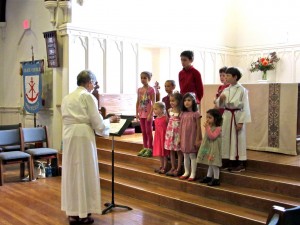 Angel Choir: Children age 3 and up are invited to sing with the Angel Choir. This group participates in services once a month; practices are usually held before the service on the morning that the choir sings. For more information, contact Mary Hocken at mhocken@verizon.net.
Children's Corner: In the rear of the nave, this open space offers art materials and other resources to allow children to respond to the liturgy as they desire. Parents are free to accompany their children there at any point during the service.
SAINT NICHOLAS NURSERY AND PLAYROOM
The St. Nicholas Nursery and Playroom in the Old Rectory is open from 9:15 a.m.-12:15 p.m. on Sunday mornings. The Nursery/Playroom can accommodate 14 children from 3 months to 5 years. Six year-olds are welcome at the discretion of the nursery staff. Children may be in the nursery/playroom for all or part of the service; many parents leave small children there for the Liturgy of the Word and then bring them into church to share in communion.
Parents are asked to sign their children in, letting sitters know in advance if another adult is allowed to pick a child up at the end of the service. Caregivers do not change diapers, and parents will be summoned from church for a diaper change if the need arises.
SUNDAY SCHOOL
All children are encouraged to attend Sunday School classes from 9:00-10:15 a.m., mid-September through mid-June. Friends are welcome and encouraged at Grace children's events. Repeat guests to Sunday School will be asked to complete a registration form.
Ages 3-Kindergarten and Grades 1-2: Children from age 3-kindergarten and Grades 1-2 meet in two atrium classrooms for the Montessori-inspired program "Catechesis of the Good Shepherd." In a serene and prayerful environment, children work with hands-on materials relating to parables and liturgy. Adults serve as catechists who do not "teach" so much as "announce" the Good News, allowing children to fall in love with God on their own.
Grades 3-4: Our third and fourth graders get to experience the Episcopal Church Curriculum. Throughout the church year, they may study the Old and New Testaments, the Sacraments, as well as Jesus's life and teachings. Children also learn about the early church, saints and The Book of Common Prayer.
Grades 5-6: (Because of the way our youth curriculum works, this class meets every other year, beginning with the 2014-2015 school year.) Young persons in grades 5 and 6 spend the year before they start Rite-13 doing in-depth Bible study. The young people explore our Old and New Testament biblical ancestors, thinking about how their stories continue to be lived out in our lives today.
Grades 6-12: Our youth program follows the "Journey to Adulthood" curriculum. There are three components: Rite 13, J2A, and YAC (young adults in church). Through activities and discussion on Sunday mornings and Sunday evenings, this program helps young people encounter Christ and think and learn as a group about what it means to grow into Christian adults. Beginning in the 2014-2015 school year, we will have Rite-13 (for grades 7 – 8) and J2A (for grades 9 – 10). For more information about the youth program, please contact us.
Pre-Register here for the 2017-2018 school year.
SPECIAL OPPORTUNITIES
Liturgy and the Arts: Throughout the year, children ages 7 and up are invited to explore the liturgy through a variety of media—hand bells, stained glass, drawing, painting, and singing, to name a few. Saturday morning workshops focus on particular seasons.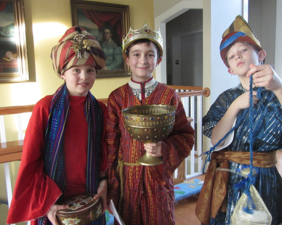 Christmas Pageant: At the 4:00 p.m. service on Christmas Eve, the Liturgy of the Word
is a dramatic presentation by the children of the parish. For more information, contact us.
Liturgical events: Feasts and fasts in our church are marked with special services for young children, including a Blessing of the Animals for St. Francis Day, a preschool
service on Ash Wednesday, and a children's service on Good Friday.
SAFETY
Grace Church follows the Safe Church policies of the Diocese of Western Massachusetts, which can be found in full at www.diocesewma.org. All adults who work regularly with children have been checked for criminal records and trained Safe Church procedures.
Parents are asked to ensure a safe environment at Grace by being aware of their children's whereabouts during the liturgy and coffee hour. Sunday School teachers cannot release children to go to church on their own; parents are asked to pick them up and bring them to the nave in time for the liturgy.