Music Ministry
MUSIC MINISTRY AT GRACE CHURCH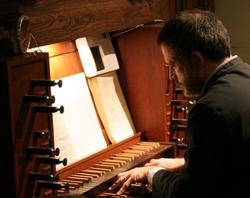 Music is an essential element of the worship life of Grace Church, and enriches a wide range of activities in our parish community. We have a strong singing congregation, who welcome the opportunity to raise their voices during services and other musical occasions. Organist Richard Damon plays our 1977 tracker organ and the piano during services.
The 15 – 20 member choir includes beginners and professional-level volunteers. Music Director Elizabeth Hart Damon conducts the choir and takes the lead in planning all music programs. She chooses anthems from a wide range of traditional sources, with the goal of preserving the rich heritage of church music.
In addition to our focus on traditional sacred music, Grace Church was blessed to have Gospel scholar Dr. Horace Clarence Boyer as a parishioner. Horace, was the general editor of the Lift Every Voice and Sing hymnal, which enriches the worship life at Grace. He composed new works that premiered at Grace Church. Dr. Boyer's music comprised the greater part of theCreation Mass, a collaborative choral work written by eight Grace Church composers as part of a Lilly Foundation grant to fund creative projects. Performed in November 2007, this ambitious and joyful endeavor celebrated the creativity of all members of the parish.
The Angel Choir (ages 3-9, augmented with older youngsters), prepare and sing a monthly introit for the Sunday 10:30 service and take part in the Christmas Pageant and other musical events. Directed by Mary Hocken, the Angel Choir also joins the adult choir for special occasions.
We are fortunate to live in the Five College area, and many of the region's music professors and players are parishioners at Grace Church. They supplement the musical life of our church by playing preludes and postludes, participating in special music projects, and leading adult education sessions on musical topics. We maintain a list of parish instrumentalists — children, teenagers, and adults — and facilitate the putting together of a variety of parish chamber ensembles. Grace has a five-octave set of Whitechapel handbells, and the Music Director, as well as parishioner Janet Moore, assembles a bell choir for festive services and concerts.